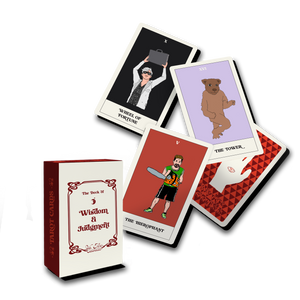 What if we said there is a tool that allows you to accurately assess your life in all its complexity, to map your past and future, and to guide your choices — the big ones and the small ones? And what if we told you it was made of paper,  could be carried around in your jacket pocket, and be had for the price of a fairly bad meal? 
What if — seeing your wild-eyed interest — we went on to describe a full-color, 87-card deck of tarot cards featuring the voluptuous drawings of Keith Murray and a handsome box and layout by Texan designer Rebecca King? Would your knees weaken, at least a little? Would your palms moisten?
With all the major and minor arcana accurately represented, and represented more compellingly than ever in KM's own hand, this fully functional tarot deck includes instructions for a beginning reader, as well as a set of cautionary rules for the expert who wishes to avoid corrupting reality. 
Never before has ascertaining the invisible strings that connect people and events been so enjoyable and easy. 
(Please do not use these cards for evil.)