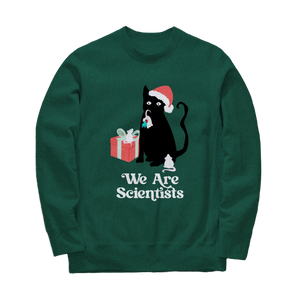 After years standing above the Holiday Hustle, we're wading into the fray with this handsome, comfortable, kind of sinister crewneck jumper. 
"Jumper" is a word for a sweatshirt that we don't use in the United States, but even a Yank would happily call this a jumper, because boy does it jump out from the crowd. If you have an office holiday party, and you want to be remembered as a stylish, sensitive person-of-the-world, then you should not wear this. If you'd like to be known as the lunatic who boasted a graphic tableau of bloody, carnivorous nature — who thus applied their claws to the scrim of civility that drapes our culture's end-of-the-year candy-coated money orgy — you'll have trouble beating this piece. 
Holiday modifications to the W.A.S. Smoking Cat design were made by the inimitable Ashley Bailey. 

Ships on or around December 1st (any short delays will be due to seasonal capacity issues). Any items ordered alongside this one will ship at the same time - if you wish to receive other items earlier, please place a separate order.