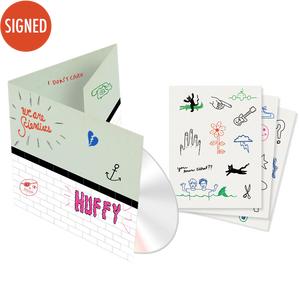 Jet-skis ripping across a jewel-green bay. Piña Coladas on ice, shredded in the blender. An alligator drops into a sick-ass guitar solo, then takes the last chorus up a notch with an unusual harmony you simply didn't see coming. 
This is "Huffy," the brand new studio album from We Are Scientists. Ten tracks recorded and produced by the band, and mixed by ear-athlete Claudius Mittendorfer, in a package that only you can complete.
A spacious tri-fold cover presents you with a blank wall. The included sticker pack — plus whatever additional materials you dare muster — presents an opportunity. Will you create the ultimate version of "Huffy," the one that perfectly articulates your understanding of the world and your place in it? Maybe, instead, you'll slap all of the stickers on your dusty old guitar case — covering up the old, worse stickers — and hit the road so you can make your mark. Or, you can just put the stickers on the box of whatever cereal you're having for dinner, and throw that box away in a day or two when the cereal's gone. That's fine too! You'll still have the CD. 
Exclusively for pre-orders, we'll include a transparent sticker that we've autographed with a permanent marker. Place this on your album artwork wherever you choose. Heck, place it on the dotted line of of a really nasty contract! We won't stand in your way. 
Just promise us this: when that gator drops into his solo, and that blender starts screaming its very creative harmony, and the sun is already settling down into the warm purple water of that bay, don't just stand there staring, your brand new CD tucked tight into the waistband of your jeans. 
Dance. 
Tracklisting:
1 - You've Lost Your Shit
2 - Contact High
3 - Handshake Agreement
4 - I Cut My Own Hair
5 - Just Education
6 - Sentimental Education
7 - Fault Lines
8 - Pandemonium
9 - Bought Myself A Grave
10 - Behavior Unbecoming